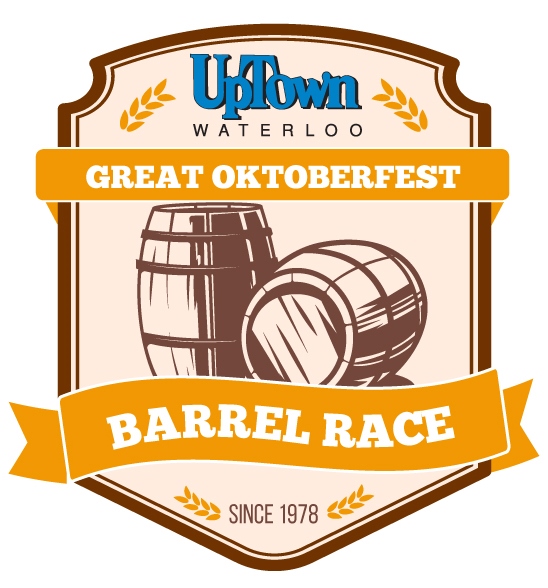 UpTown Waterloo Great Oktoberfest Barrel Race
Saturday, October 14, 2017
11:00 am – 1:00 pm
Roll out the barrel! Our annual relay style keg race features adult mens', ladies' and co-ed teams of four racing for the best time, in order to win awesome prize packages from the event's generous sponsors (listed below). Children can participate in wheel barrow races too, with prizes for all!  Proceeds of the race will go towards supporting UpTown Waterloo businesses.
Early-bird Registraton: $35
Same-day Registration: $40
Register Online!
Register your team online here! Follow the link provided at the end of the form to pay online. You can also drop off your registration payment (cash or cheque only) at the BIA office inside Waterloo City Hall: 100 Regina St. S., suite 160, or pay on the day of the race ($40).
Barrel Race Rules and Regulations
Thank you to this year's sponsors!

Sausage Fest
Join us in the Square after the Race for the 3rd annual Sausage Fest, where local restaurants showcase great-tasting sausage and sausage products from their current menu, as well as specialty items you might not normally see. For our craft beer enthusiasts, this event will serve up delicious beer recipes to satisfy your thirst. For more information about Sausage Fest, visit the City of Waterloo's website.
Highlights from the Great Oktoberfest Barrel Races 2014-2016