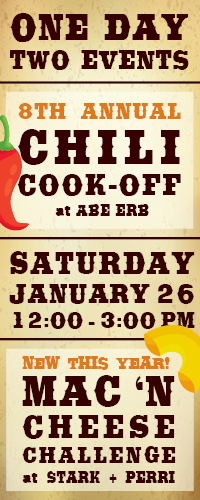 8th Annual Winterloo Chili Cook-off
and First-Ever Mac 'N Cheese Challenge!
Saturday, January 26, 2019
12:00 – 3:00 pm
$5 entry
As part of this year's Winterloo festival, enjoy a smorgasbord of yummy comfort foods at the 8th Annual Chili Cook-off at Abe Erb and first-ever Mac 'n Cheese Challenge at Stark & Perri!
Chili competitors: Abe Erb, Beertown, Copper Branch, Little Mushroom Catering, Pure Juice Bar + Kitchen, Stark & Perri
Mac competitors: Harmony Lunch, Little Mushroom Catering, Lou Dawgs, NUDL Artisan Pasta, Stark & Perri, Swine and Vine
Join our judges Andrew Coppolino (Waterloo Region Eats), Angie Hill (99.5 K-FUN), Carlos Benevides (91.5 The Beat), Dana Shortt (Dana Shortt Gourmet), Mayor Dave Jaworsky to vote for your favourite in each competition!
$5 per entry (gets you in to both events); children ages 12 and under are free. Proceeds go to Friends of We Care.  Tickets can be purchased in advance (via the link above) or upon entry at the event (at either location). 
For more information about the Winterloo Festival, visit www.waterloo.ca/winterloo.
Photos from Previous Years