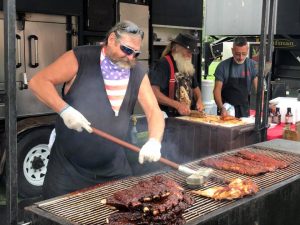 To help round out your summer, Waterloo Rib Fest is back from September 6th to the 8th and bringing with them mouthwatering, barbecue ribs, craft beers and summer cocktails.
Annually, Waterloo Rib Fest attracts 7,500 avid barbecue connoisseurs. Now in their fourth year, the event has a new location – in the Regina Street parking lot (between City Hall and Paul Punchers) in Uptown Waterloo.
"We are featuring several top rib teams in North America," shares Waterloo Rib Fest coordinator Victor Anast from the Northern Heat Rib Series. "Paired with some of the best craft beers in Canada and a new cocktail menu, Rib Fest attendees won't be disappointed."
Admission to the event is free. Live music, backyard barbecue games and a free kid's zone are also included at Waterloo Rib Fest. Information and free coupons for the event can be found at https://northernheatribseries.ca/waterloo/
Rib Fest Hours:
Friday, September 6th from 4:00 pm until 10:00 pm
Saturday, September 7th from noon until 10:00 pm
Sunday, September 8th from noon until 7:00 pm
"We can't wait to delight your taste buds for the fourth year in a row!" adds Anast.