Waterluminate
Uptown Waterloo Light Program
Introduction
In the fall of 2018, the City of Waterloo implemented LED lighting around street trees located along King Street, between the Public Square and Bridgeport Road. These lights can be programmed and timed to illuminate Uptown's central corridor in a broad spectrum of colours to celebrate holidays, festivals and help raise awareness for charities and special causes.
Special illumination for annual holidays, internationally recognized dates and other significant occasions will be governed by the City of Waterloo and the Uptown Business Improvement Association (BIA). Lighting requests will be reviewed on a case-by-case basis based on the criteria below.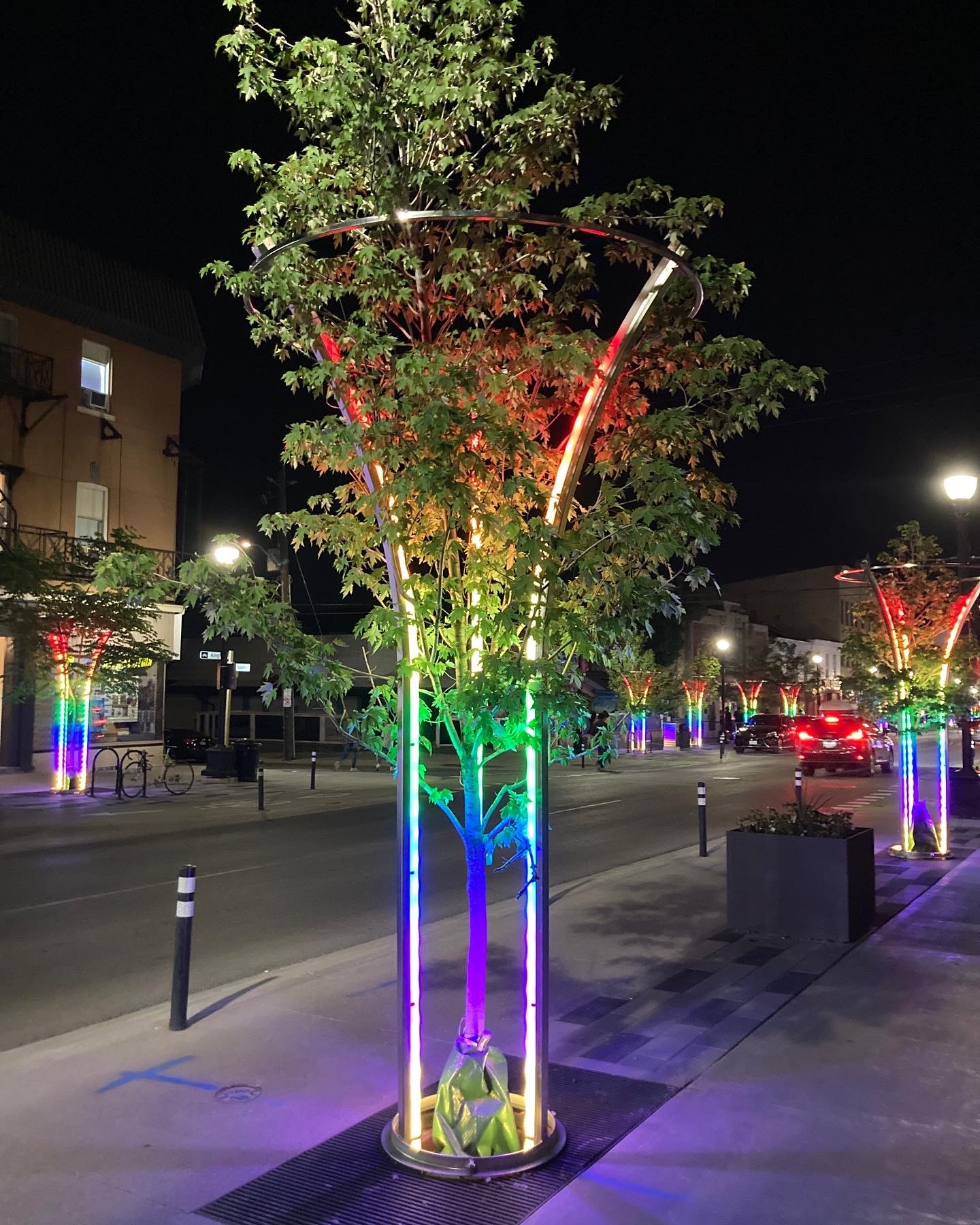 Eligibility
As noted above, in addition to illuminations for annual holidays, internationally recognized signature dates, and other significant occasions in the Uptown Illumination Calendar (see below), special illumination requests from non-denominational, non-political registered charities or not for profit organizations will be considered on a case-by-case basis.
Requests for special illuminations should be significant and relevant to the City of Waterloo and/or a cause recognized widely nationally or internationally. All requests will be evaluated based on the above-noted criteria as well as:
The nature of the cause;
History and background of the organization, cause or event; and
How the lighting will be used to benefit the cause or event.
Special colour illumination requests will not be considered for:
Advertising requests
Personal occasions (e.g. birthdays, proposals, etc.)
Religious or political events
Application Process
To apply for special illumination, please email uptownwaterloobia@waterloo.ca. Applications for special illuminations must be received at least 30 days prior to the scheduled event.
Special illumination requests are considered on a case-by-case basis and are issued at the sole discretion of the City of Waterloo and Uptown Waterloo BIA. These requests are not subject to appeals or negotiation. In the event that a request is denied, this should not be interpreted that the City of Waterloo and Uptown Waterloo BIA do not find merit in the request or the importance of the special event/occasion.
All applicants will receive an emailed response stating whether or not the request has been approved within fifteen (15) days of receipt of the request. Details relating to the timing of the special illumination will be confirmed with the applicant at that time.
Holidays and Special Dates
| | | |
| --- | --- | --- |
| Event | Date | Lighting Program |
| Valentine's Day | February 14 | Pink/Red and white |
| St. Patrick's Day | Nearest Monday to March 17 | Green and white |
| World Water Day | March 22 | Blue |
| Earth Day | April 22 | Green and blue |
| National Indigenous Peoples Day | June 21 | Red, gold, blue and green |
| Pride Day | June 24 | Rainbow multi-coloured bands |
| Canada Day | July 1 | Red and white |
| University/College Homecoming Week | September (Dates to be confirmed each year. | Alternating University of Waterloo, Wilfrid Laurier and Conestoga College colours |
| Oktoberfest | Early October | Alternating fall colours |
| Halloween | October 31 | Various themed colours |
| Remembrance Day | November 11 | White black/purple and red |
| Holiday Season | December 1st to 30th | Various festive colours |
| New Year's Eve / New Year's Day | December 31 / January 1 | Light show at midnight |
Health Awareness and Other Causes
| | | |
| --- | --- | --- |
| Name | Date | Lighting Program |
| World Lymphedema Day | March 6 | Teal blue |
| World Down Syndrome Day | March 21 | Blue and yellow |
| Day of Epilepsy Awareness (Purple Day) | March 26 | Purple |
| Porphyria Awareness Day | April 19 | Purple |
| National Physicians' Day | May 1 | Blue |
| Fibromyalgia Awareness Day | May 12 | Purple |
| Huntington Disease Awareness Month (Light it Up Day) | May 14 | Purple and blue |
| World Inflammatory Bowel Disease (IBD) Day | May 19 | Purple |
| Cystic Fibrosis Awareness Month | May 28 | Teal and blue |
| Multiple Sclerosis Awareness Month (MS Day) | May 30 | Red |
| St. Mary's Hospital Day (Red Day) | June 10 | Red |
| World Blood Donor Day | June 14 | Red and teal |
| World Elder Abuse Awareness Day | June 15 | Purple, turquoise and white |
| International Overdose Awareness Day | August 31 | Purple |
| National Polycystic Kidney Disease (PKD) Awareness Day | September 4 | Teal |
| Prostate Cancer Awareness Month (Light it up in Blue) | September 16 | Blue |