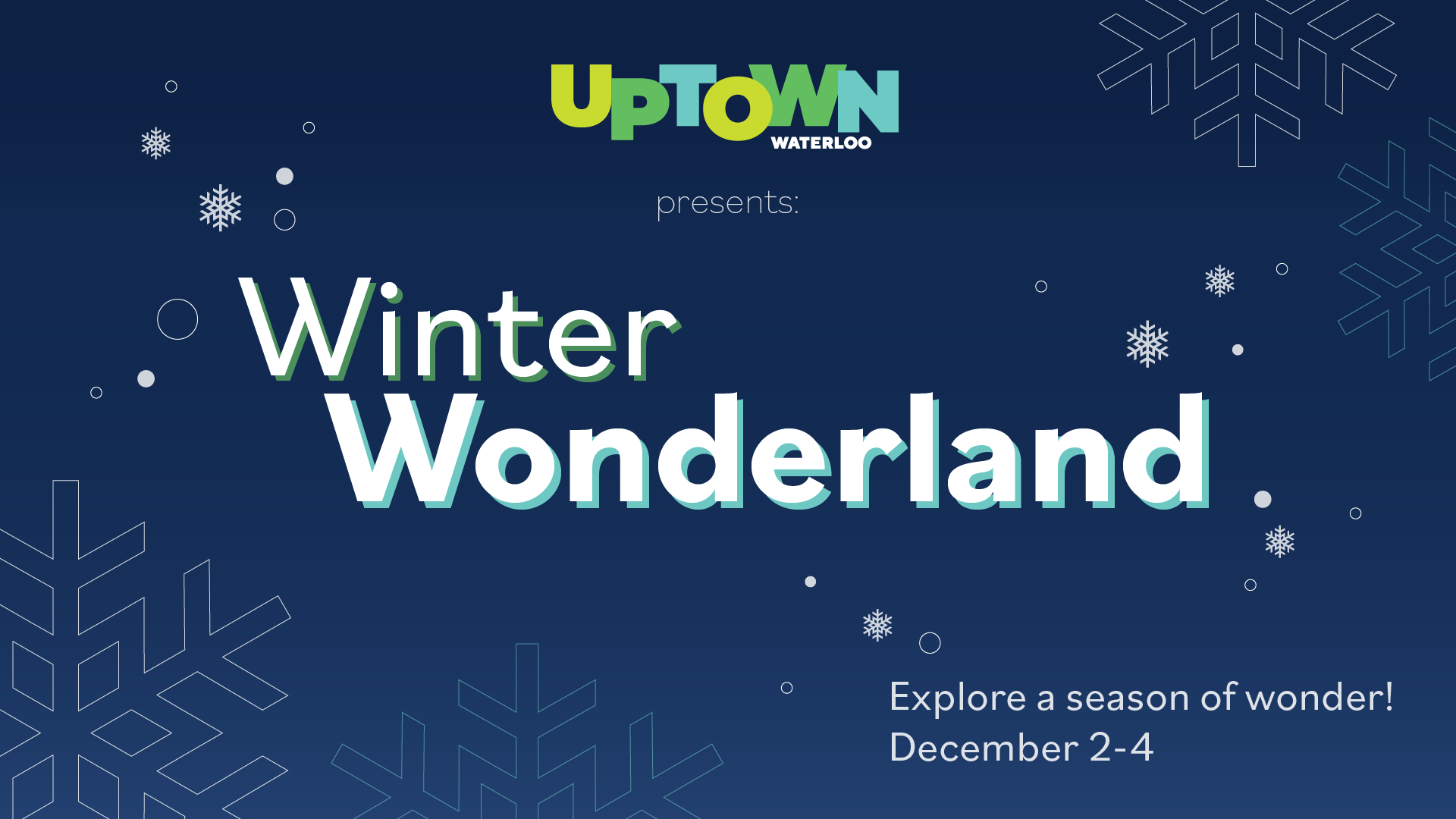 Uptown Waterloo Winter Wonderland
Enter a season of wonder with a variety of activities and events including the Tree Lighting Ceremony, a new Holiday Pop-Up Art Market and SO much more December 2-4!
Tree Lighting Ceremony: December 2, 7:00 pm
Join Santa, Mayor Dorothy McCabe, Ward 7 Councillor Julie Wright, Emcee Angie Hill and the Uptown BIA as the Uptown Christmas tree is lit up in the Waterloo Public Square!
We'll have live music by the band Just Fine: "a group of up to eight energetic, eccentric, and eclectic young talents brought together by the Waterloo music community. With well over a decade of live performance experience between them they are capable of adapting and adjusting to the occasion to provide audiences with groove, taste, and class. Lately their focus has been on reviving dance classics from artists like Kool and the Gang as well as showcasing contemporary artists like Vulfpeck. The future looks to see them add an experimental edge to their music as they explore their sound further and experiment with songwriting. This collection of musicians is uniquely qualified to make you move, so whether you like to bob your head or shake your body – they're sure to treat you Just Fine!"
There will also be festive characters handing out candy canes.
NEW for 2022! The Holiday Pop-Up Artisan Market
This year we're excited to present a Holiday Pop-Up Artisan Market, being held December 2 from 6-10PM and December 3 from 10AM-4PM at The Shops.
Market vendors:
3rd Floor Beauty
Alicia Marie Scribbles
ArtsyAshDesigns
Barranca Boutique Salon
Bartlett Blossoms
Bittersweettart
Changing the Flow
Corkum Cove Collection
Daisy and Pinecone Collection
Detour Candle Co.
Dr. Ward's Fresh Mists
Eekta Trienekens ceramic Arts
Fresh and Faded Tees
Ginger Goat Hot Sauce
Go Hug A Cactus
ISSAV
Jemcah Bergsma
June8 Woodworking
KC Cloud Creations
KO Style Co
Liv Lush Today
Lori Wolf-Heffner
LukumeTC science lab
Makeworth Shop
Mar's Craft Shop
Megan Skelton
Megan's Brushstokes
Moon and June Pots
Morido Lamps
Nancy's Creations
Parfêtety
Retrosnack Clothing
Rising Moon Gallery
River Rock Mandalas
S&Em Designs
Stitch'n Thrift
Studio 648
Sugar Fix KW
Sun Set Moon Rise book & candles
Sundried Peach
The ASTROLATHE
The Nirvana Project
Thistle Do Nicely
True Love Jewellery
| | | |
| --- | --- | --- |
| Best Behaviour | Holiday drop-in open house. Come for a tour of our centre, some fun Christmas crafts and treats 🙂 | Dec 3rd |
| Champa Kitchen | Offering special dinner sets and FREE Hot Tea with the set. | Dec 2-4 |
| Charmed Flowers | To celebrate our 10th anniversary we are offering a free DIY dried flower experience for our customers. Customers who preregister will be able to make two dried flower ornaments: one to keep and one to gift. | Dec 2-3 |
| Crumby Cookie Dough Co. | Offering a 2 for $20 deal on our biggies (normally priced at $11 each) from December 2-4, perfect for holiday baking! Customers can choose from any of our flavours. 10% discount on those from Dec 2-4 as well! | Dec 2-4 |
| Dana Shortt Gourmet & Gifts | Holiday Open House event – come by to taste delicious samples and to take a look at our new gourmet foods and holiday treats! We are randomly giving away a $50 gift card every hour and you can enter to win a gift basket. | Dec 2nd |
| Four All Ice Cream | We plan to re-introduce our Hot Treats menu in time for Winter Wonderland, and will be offering a free sugar cookie topper to any purchases from our Hot Treats menu. | Dec 2-4 |
| House of Bamboo | Spend $100 before taxes and get a $10 gift card for future purchase. Spend $200 before taxes and get $25 gift card for future purchase. Plus enter to win $100 Gift Certificate for House Of Bamboo. | Dec 2-4 |
| Huether Hotel | Offering sales promotion for 3 days: in our cafe, BOGO coffee and in barley works BOGO 1/2 off pizza. | Dec 2-4 |
| Just For You Fine Lingerie | We will use our prize wheel to offer give aways with dollars off and shop tax free all weekend. | Dec 2-4 |
| Kindred Spirit | Enjoy holiday treats, holiday decor, holiday merchandise only available at this time for gifts, a special Winter Wonderland window, plus No tax special for those dates and a holiday giveaway. | Dec 2-4 |
| Lost Vessel Vintage | No tax on in store sales for Winter Wonderland. | Dec 2-4 |
| Mr Sub | Buy any sub get and can of pop and get bag of chips for free. | Dec 3rd |
| SPINCO | 3rd annual holiday toy drive, with a cookie decorating station, hot beverage station, complimentary gift wrapping, pop up local markets, giveaways for the riders, and an open house to explore our studio. | Dec 4th |
| The Bakery | Chocolate Whiskey butter tarts 20% off for Winter Wonderland and the rest of December ($2.75) | Dec 2-4 |
| The Sock Factory | Customer will receive a $10.00 Sock Factory Gift Card with purchase over $50.00 (one per customer/purchase, while supplies last). | Dec 3rd |
| The Truth Beauty Company | Holiday Shop: We will be having our annual holiday party – this time on a Saturday! Get some festive treats and enjoy holiday music! | Dec 3rd |
| Unique Boutique | Up to 50% discount. Unique Mystery bags for sale (available only during this event) -the more the merrier discounts (if a customer brings another new customer to our store, they get bonus discounts). Holiday-themed appetizers and drinks. | Dec 2-4 |
| Waterloo Medical Cosmetics | Promotional event- Gift with purchase on all spa product purchases over $150 | Dec 1-15 |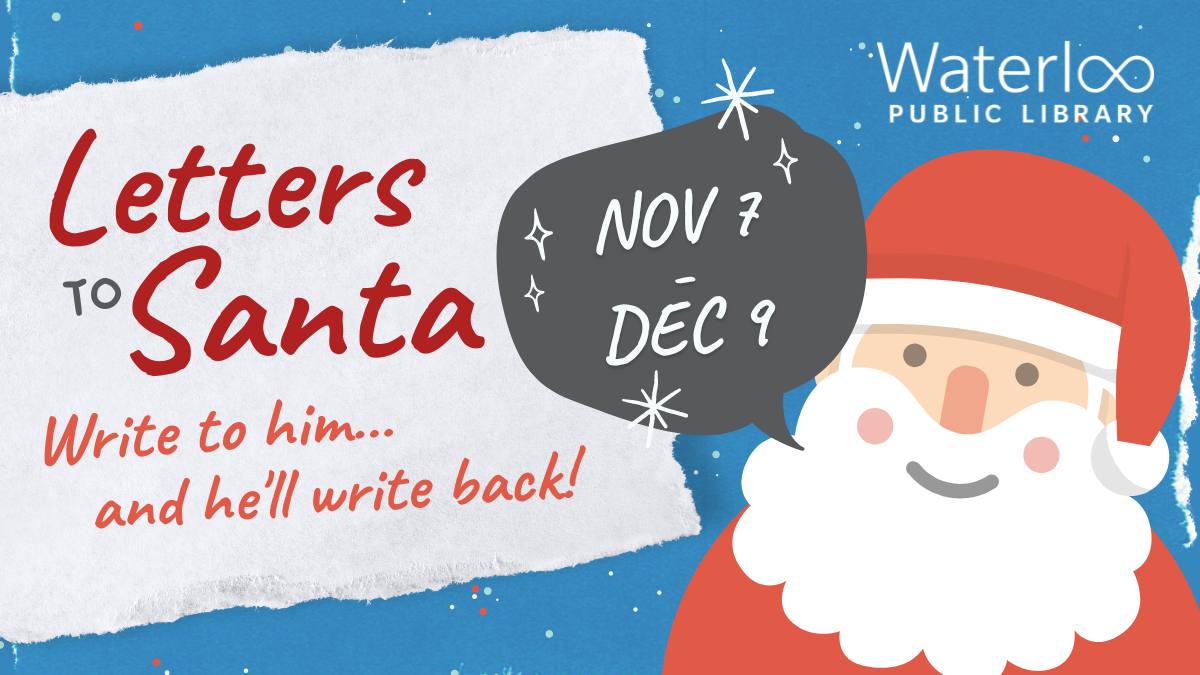 Letters to Santa
Letters to Santa are back at WPL for the holidays! From Monday, November 7 until Friday, December 9, you can drop off your letter to Santa at any WPL location and Santa will write back. Visit wpl.ca/santa for more details.
Winter Art Walk
Take a self-guided tour throughout Uptown Waterloo to discover beautifully painted themed windows by local artists at various businesses December 2022 -February 2023.
Participating Businesses and Local Artists TBA
Need More Holiday Shopping Inspiration?
Watch our video below to follow along on a tour with BIA Board Members to various Uptown businesses where you can shop for the holidays!