Princess Street Pop-Up Space
2022 Edition: The SLATS
Street, Lively, Active, Temporary Seating
The second iteration of the Princess Street Pop-Up Space featured an installation by local designer Amy Esplen titled The SLATS: Street, Lively, Active, Temporary Seating. This edition included  geometric seating along with trees and native vegetation, creating a miniature forest in the middle of the city.
The goal for The SLATS was to inspire a sense of wonder, allowing visitors to enjoy the space in many ways. Pop-up performances, events and non profit programming were hosted at the SLATS, as well everyday enjoyment as a place to meet friends, eat lunch or just relax.
The FUSE lighting activation and night market at the Waterloo Public Library were located adjacent to The SLATS, creating a vibrant corridor in the heart of Uptown.
This project was recognized with an Award of Excellence in the Streetscaping and Public Realm Improvements category by the Ontario BIA Association in April 2023. The SLATS was also selected to receive Government of Canada funding through the My Main Street Community Activator program.
Watch The SLATS in action in the video below.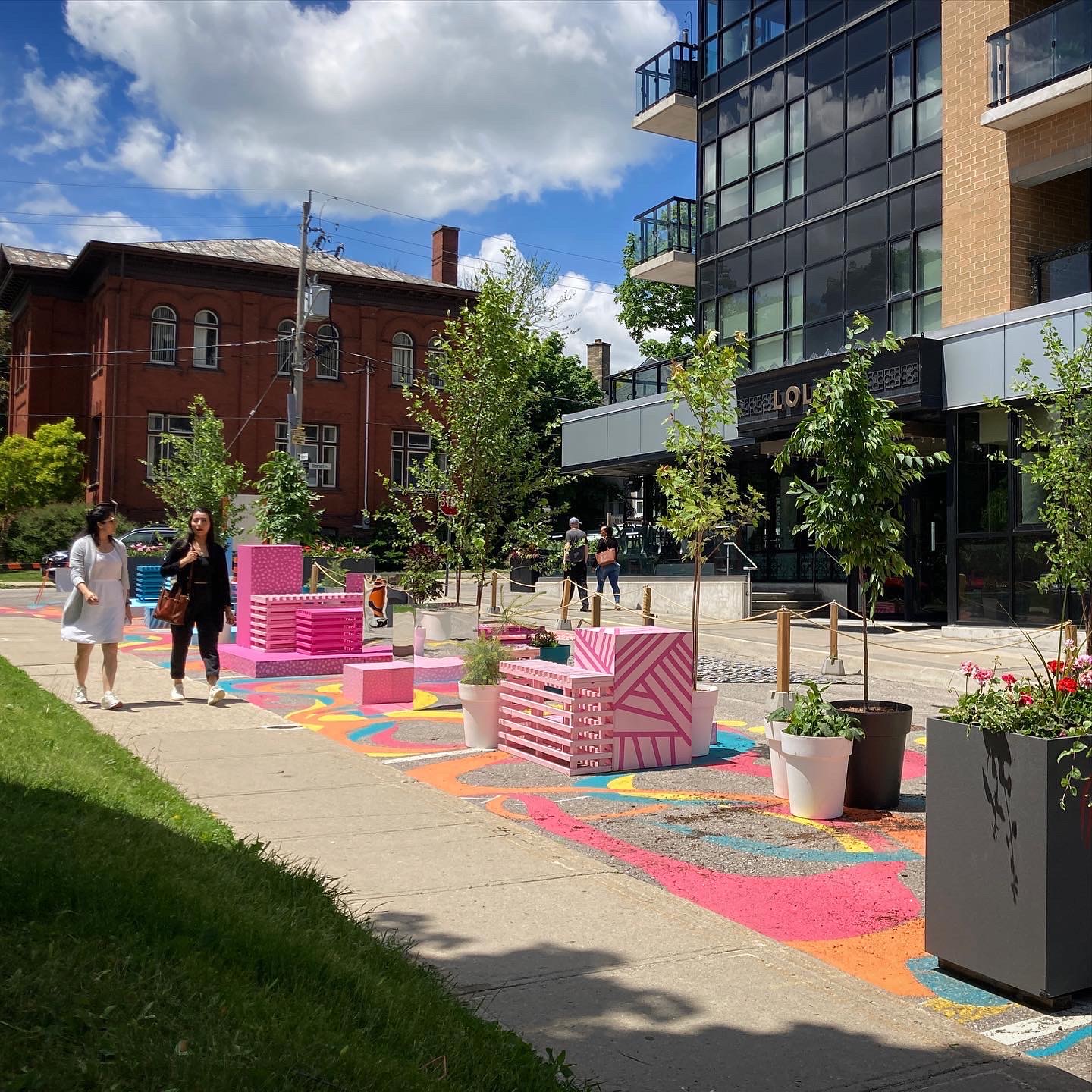 2021 Edition: #MeetMeOnPrincess
During the pandemic, many businesses suffered significantly due to lockdowns and there was also a desire from residents to be outside more and maximize the use of public space. The Uptown Waterloo BIA saw an opportunity to address both needs by creating a temporary public space on Princess Street.
In 2021, the BIA worked alongside a group of local business owners with the idea of transforming the west side of Princess Street to accommodate for extended patios. The BIA enlisted the help of Shared Places and ABA Architects to create a vibrant, public space alongside the patios, with interactive installations, seating and a colourful street mural designed by local artist Renee Hanson.
The final design was a playful interpretation of a bonfire; it consisted of three installations made of pool noodles with Adirondack chairs around them for people to gather. The street mural, titled "The Winding Path" tied everything together and featured scattered tile flooring with meandering lines through the space. The piece illustrated people coming together through movement, play and interaction. The interactive lighting installation FUSE was also included in this temporary public space.