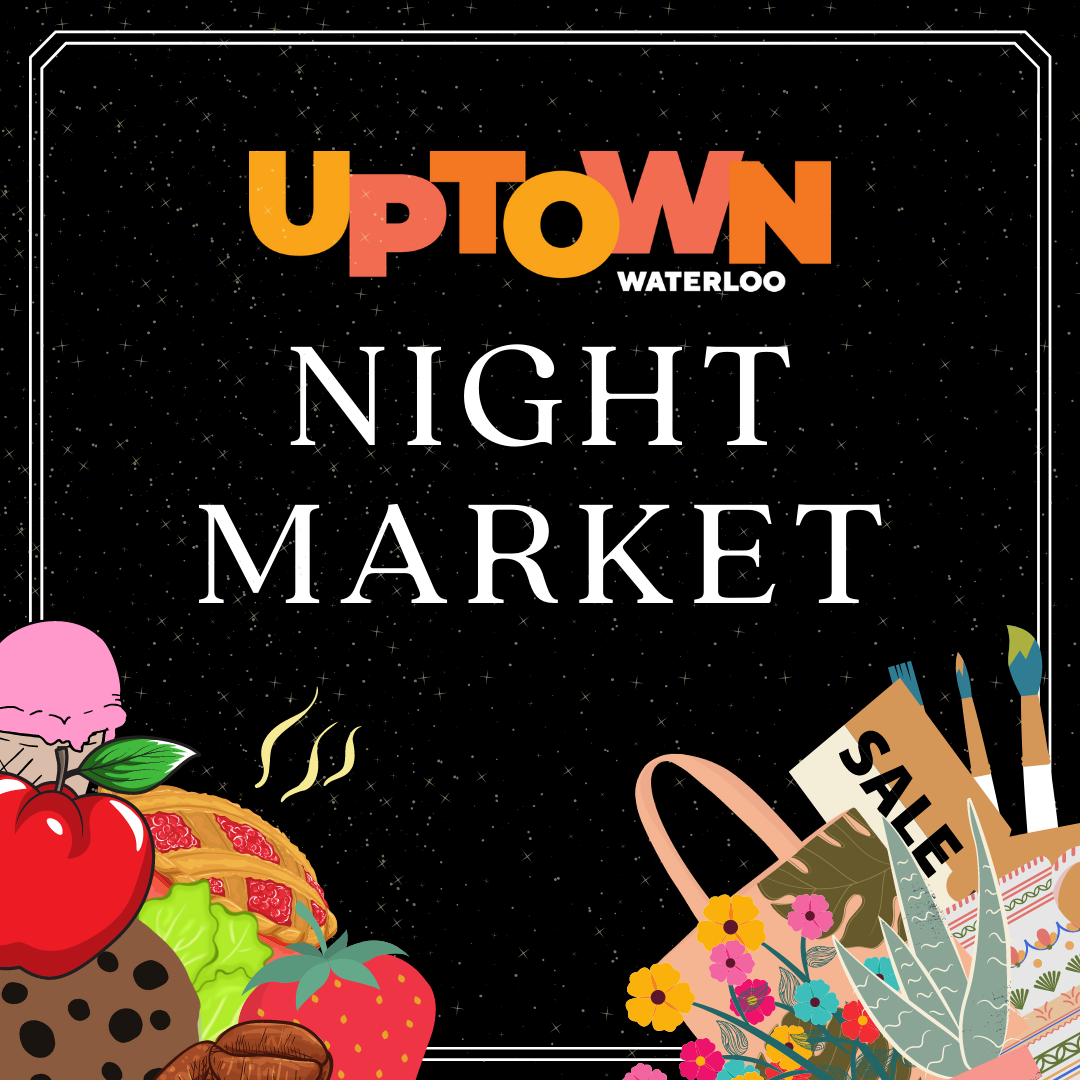 Join us every Thursday evening between 7 PM and 10 PM in the Communitech Data Hub parking lot located behind 14 Erb Street West (Dupont & Albert Sts.) from July 15th to September 30th for a night market featuring a variety of local vendors.
*This event is weather permitting. Stay tuned to our socials for up to date information and/or cancellation schedules.
Interested in being a vendor?
Our Night Market is full at this time and we are unable to accept new Vendors.
However, you can sign up for our vendor mailing list to stay up to date on upcoming vendor opportunities. 
Location & Parking
Use this map for available parking during the Uptown Night Market.
Sept 16
Musician – Craig McNair (All Night)
Food Vendors
Palmer's Baked Goods
Kusina Sugbo
Little Tree Wandering Café
Om Sai Catering
Artisan Vendors
All Things Preserved
Changing the Flow
The Clothing Exchange
Designs by Taite & Natural Designs
Go Hug A Cactus
Birch Please
The Nirvana Project
Julia Masci Textiles
Taya
Sept 23
Musician – Juneyt (8:30pm – 10pm)
Food Vendors
Palmer's Baked Goods
Kusina Sugbo
Little Tree Wandering Café
Om Sai Catering
Wicked Smart Hot Sauce
Artisan Vendors
Mira Barklay
Changing the Flow
Rising Moon Gallery
Nancy's Creations & Seeds
Honey House Thrift
Go Hug A Cactus
Pretty Little Things
Nirvana Project
Julia Masci Textiles
Taya
Sept 30
Musician – Juneyt (8:30pm – 10pm)
Food Vendors
Palmer's Baked Goods
Kusina Sugbo
Little Tree Wandering Café
Bitter Sweet Tart
Artisan Vendors
All Things Preserved
The Clothing Exchange
Rising Moon Gallery
Designs by Taite & Natural Designs
Honey House Thrift
Go Hug A Cactus
Birch Please
519BeadyThings
Julia Masci Textiles
Taya
Revelación