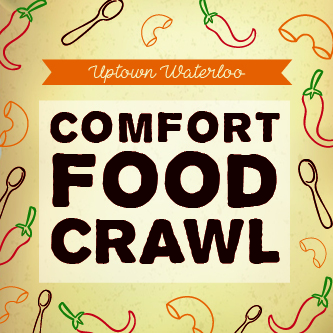 Nothing helps to beat those winter blues like comfort food! The public is invited to attend the Uptown Waterloo Business Improvement Area's (BIA) inaugural Uptown Comfort Food Crawl that includes their 9th annual Chili Cook-off, second annual Mac ' N' Cheese Challenge and first ever Soup Showdown on Saturday, January 25th.
The event run from noon until 4:00 pm and is part of Waterloo's annual Winterloo Festival.
"It's a deliciously fun afternoon where Uptown Waterloo restaurants and vendors compete for the coveted People's Choice and Judges' Choice awards," shares Tracy Van Kalsbeek, Executive Director of the BIA. "Everyone and anyone is invited to attend – the tickets are only $10 and you get to sample options for all three competitions."
The popular food crawl that attracted over 500 people last year will be held at three Uptown Waterloo restaurants. The Chili Cook-Off can be found at Kentucky Bourbon & BBQ, the Mac 'n' Cheese Challenge at Abe Erb Brewing Company and the Soup Showdown at Prohibition Warehouse.
There are many new competitors this year including: Copper Branch, Kentucky Bourbon & BBQ, Little Mushroom Catering, Marbles, Abe Erb Brewing Company, Heuther Hotel, Duke of Wellington, Little Mushroom Dining Lounge, Seven Shores, Prohibition Warehouse, Taco Farm, Aroma Café, The Works Gourmet Burger Bistro and Café 22.
Joining the BIA as celebrity judges this year are: CBC Kitchener-Waterloo Food Columnist Andrew Coppolino, Sarge from 99.5 K-Fun, Dana Shortt from Dana Shortt Gourmet, City of Waterloo Mayor Dave Jaworsky, Regional Chair Karen Redman, Jennifer Campbell from Country 106.7, Paul Herriot and James Sebastian Scott from 570 News and Rae Kelly and Laura Geddes from Virgin Radio.
"It's a trifecta of food to test in Uptown," shares returning judge Andrew Coppolino. "Mac and cheese, soup and chili are a trio that all say to me these are what you really need and really want when it comes to warming up against the winter chill and overcast skies. Foods like these are comforting and feed the soul as well as the body. They're comfort food and flavour and memories."
Awards will be announced around 3:30 pm at Abe Erb and will be streamed live on the BIA's Facebook page. Proceeds from this event will support charitable partner the KW Humane Society.
Tickets are available online via the Uptown Waterloo BIA website and at the doors of all three venues on event day.