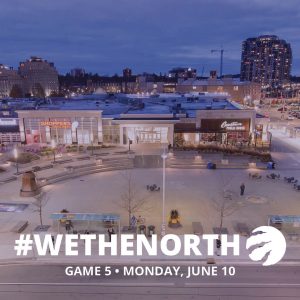 Raptor enthusiasts not wanting or able to travel to Toronto's Maple Leaf Square now have the option to watch game five of the NBA Finals between the Toronto Raptors and the Golden State Warriors on June 10th in Uptown Waterloo.
Being dubbed "WE THE NORTH Square," fans can cheer on their favourite team in Waterloo Public Square. Beertown is bringing in a giant, inflatable screen just for the occasion. The City of Waterloo is providing seating and space in WE THE NORTH Square. Game tip-off is at 9:00 p.m.
Plans are being worked out for game seven.