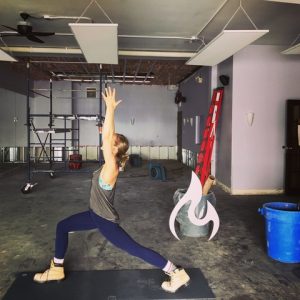 After April's surprise ice storm, Moksha Yoga in Waterloo sustained heavy water damage and had to close for repairs and renovations. Instead of allowing the closure to dampen her spirits, owner Ashley Keefe chose to remain positive. "We're trying to make the best of an unfortunate situation and are also doing some renovations we had planned – but could never find the time to do," shares Ashley.
Ashley has also been pleased with the support of neighbouring Moksha studios in Cambridge, Guelph, Stratford, London, Hamilton and Burlington. Community support is one of the seven foundational pillars of Moksha Yoga and the fellow studios opened their doors, free of charge, for Waterloo's "Mokshis" to continue their workouts.
Before laying down new floors, Ashley and her team are inviting interested community members to visit the studio on May 25 and write their personal intentions underneath the floors, infusing the foundation of Moksha Yoga Waterloo's newly renovated studio with positive vibes. "Yoga is all about creating a strong, powerful and solid support system," adds Ashley. "Now whenever anyone walks into the studio, they will be stepping onto the collective intentions of the whole Waterloo community, creating unity, peace and good feelings all around."
Intention Setting Party
Friday, May 25, 2018
Time: 7:00 pm – 10 pm
Moksha Yoga Waterloo, 55 Erb Street E. Unit 103, Waterloo
For more information, visit https://waterloo.mokshayoga.ca/.