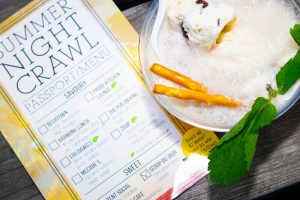 The seventh annual Solstice Sampling event will be held from 4:00 – 10:00 p.m. in Uptown Waterloo on Saturday, June 15, 2019. Hosted by the UpTown Waterloo Business Improvement Area (BIA) and the City of Waterloo, the popular evening is continuing with the same successful night crawl format from 2018. Ten UpTown Waterloo restaurants (listed below) are involved this year and have planned for a variety of delicious culinary creations – something to appeal to everyone's taste buds. New – vegan options are also on the menu this year. Entertainment, including Stealth, Awesome Mike Street Magic, Bachata Dancers Chaveen & Emily, an art installation by Nik Harron (The Infiniscope) and Keenan Reimer-Watts. A feature performance by band Ekhaya will be held in the Waterloo Public Square at 8:30 p.m.
"Solstice is a great way to spend an evening with friends and family," says Tracy Van Kalsbeek, Executive Director of the UpTown Waterloo BIA. "You can stroll along at your leisure, discovering great patios and distinctive shopping – all the while sampling yummy concoctions dreamed up by some of our area's top chefs – what's not to love?"
Passports for the Solstice Sampling Summer Night Crawl can be purchased for $40.00 each ONLINE or in person on the evening of June 15th at Waterloo Public Square. Completed passports can be handed in at the end of the night at Waterloo Public Square for a chance to win $100 in Uptown dollars.
"This event is always so much fun – I enjoy attending every year," shares Mayor of Waterloo Dave Jaworsky. "There are many fantastic restaurants here and so much to see and do – please be sure to join us on June 15th for a taste of Uptown Waterloo."
Visit our Solstice Sampling page to see a full list of restaurant partners and entertainment.