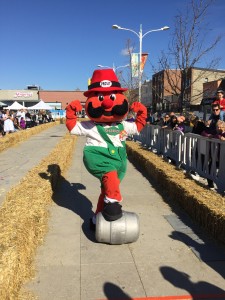 Roll out the Barrel! Families, work colleagues, individuals, groups and organizations are invited to join the UpTown Waterloo Business Improvement Area (BIA) for the 40th Annual Great Oktoberfest Barrel race on Saturday, October 13th from 11 am – 1 pm in Waterloo Public Square.
UpTown Waterloo's annual relay-style, keg race features teams of four racing for the best time, in order to win awesome prize packages from generous sponsors. In addition, the winner of this year's race will be awarded with the 40th Anniversary Golden Pumpkin!
"This is one of KW Oktoberfest's longest-standing, accredited Family & Cultural events," shares Tracy Van Kalsbeek, Executive Director of the UpTown Waterloo BIA. "We have added a few new components this year with a Fall Market – for shopping and eating and a pumpkin carving contest for kids of all ages."
Children can also participate in fun, wheelbarrow races for goodie bags. This year's event will be emceed by 570 News' newest announcer Brian Bourke and a portion of the proceeds will be donated to Habitat for Humanity.
Registration to participate is open and limited spots are still available. Register before Saturday for $35.00 or $40.00 on the day of the race. For more details contact Ashley Gallant at 519-885-1921 or ashley.gallant@waterloo.ca.
The UpTown Waterloo BIA has once again partnered with the City of Waterloo's SausageFest – Waterloo's Wurst Festival (11 am – 3 pm in Waterloo Public Square). Market vendors include:
Special thanks to event sponsors: FoxNet, Wellesley Brand Apple Products, Stark & Perri, King Street Cycles and Fox Financial Planning – Investors Group.