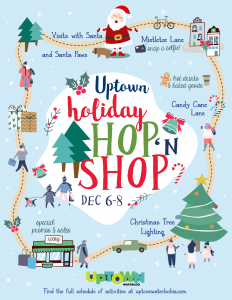 Kick off your holiday shopping by visiting Uptown Waterloo's unique and diverse businesses during the inaugural Uptown Holiday Hop 'N' Shop – Friday, December 6 until Sunday, December 8. 
"Everyone is invited to take advantage of special promotions and giveaways being offered by the 35 participating businesses/venues and to check out the many festive activities happening in Uptown," shares Tracy Van Kalsbeek, Executive Director of the Uptown Waterloo Business Improvement Area (BIA). "Bring your family for our new candy cane lane, visits with Santa for kids and pets, the second annual holiday tree lighting ceremony and more. And, you just have to visit our beautiful Mistletoe Lane and snap a quick selfie with your best friend, family or sweetheart."
Check out in-store promotions, events, prizes, markets, giveaways etc. Uptown at*:
| | | |
| --- | --- | --- |
| All My Nails | Best Behaviour | Centre for International Governance |
| Charmed Flowers | Copper Branch | Death Valley's Little Brother |
| Decorator's Corner | Emmanuel United Church | Geo's Anticafe |
| Hearts & Flowers | House of Bamboo | Just for You Fine Lingerie |
| Kentucky Bourbon & BBQ | Kindred Spirit | King Street Cycles |
| Loop Clothing | Luxe Nails | McPhail's Cycle |
| Modo Yoga | Princess Cafe | Prohibition Warehouse |
| Retro Replay | Rising Moon Gallery | Season's Fine Clothing |
| Shopify | Studio on King | Ten Thousand Villages |
| The Sock Factory | Twice is Nice/Twice the Man | Uni+Koncept |
| Unique Boutique | Uptown Therapy | Waterloo Public Library |
| Waterloo Public Square | Zero Waste Bulk |   |
* A complete listing of events as well as a site map can be found on the BIA's website and a large map will be located in the Waterloo Public Square for the duration of the Uptown Holiday Hop 'N' Shop weekend.
Other Uptown Hop 'N' Shop Weekend Festivities:
Friday, 7:00 pm – 9:00 pm: Official tree lighting ceremony in Waterloo Public Square
o   Waterloo Mayor and Ward 7 Councillor in attendance as well as emcees Angie Hill and Sarge from KFUN
o   Ice skating will be available (pending weather) and drink and snack vendors will be onsite
o   Stuffin Stockings will be onsite accepting filled stocking donations
Friday evening: Winners of the social media "Waterloo Fire Holiday Tour" contest will join local fire fighters on board fire trucks for sightseeing tours of Uptown and the Wonders of Winter exhibit
Friday – Sunday from noon until 5:00 pm: New Holiday Market powered by Shopify featuring local businesses from Waterloo Region located at 95 King St. South
Saturday, 10:00 am – 5:00 pm: Stitch 'n Kitsch Craft Market at CIGI
Saturday, 11:00 am – 12:00 pm: Visits with Santa in The Shops at Waterloo Public Square
Saturday, 12:00 pm – 1:00 pm: Visits with Santa "Paws" at Waterloo Public Square (bring your furry friends) – dog games by Leader of the Pack KW
Saturday, 11:00 am – 1:00 pm at various locations: Nutcracker ballerinas from Unlock Unleash Control Dance Studio will be posing in store windows
Throughout the weekend (based on store hours): Kids can tour Candy Cane Lane for sweet treats – see listing of participating businesses on the BIA website
All weekend: Take a stroll over to Mistletoe Lane for a selfie (alley between the Uptown Parkade and McCabes – open from December 6 – 31)
More Uptown Holiday Promotions
The BIA is also hosting a few other holiday promotions this year including a daily "elf-on-the-shelf" social media campaign and a new, "12 Days of Christmas in Uptown" video shopping guide – watch for them both on Instagram and Facebook. To add to Uptown's festive look and feel, many businesses took part in the BIA's window décor programming and Uptown's unique LED street lights will be lit like candy canes starting on December 1 all the way to Christmas. And, don't forget to check out this year's Wonders of Winters exhibit at nearby Waterloo Park opening November 30 until midnight on New Years Day.