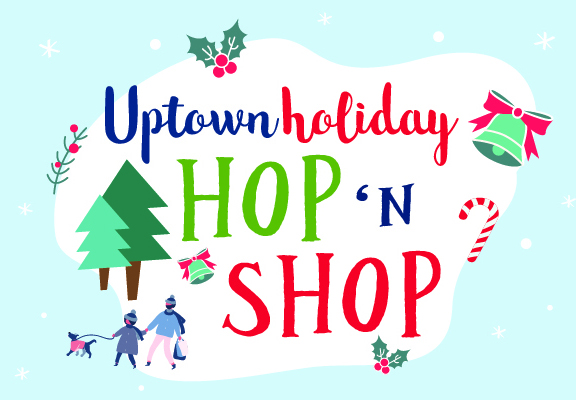 Uptown Holiday Hop 'N Shop
In-person: December 4-6
Start your holiday shopping in Uptown Waterloo and enjoy special promotions and sales!
Check out our Google Map to see all participating businesses and what they're offering. 
Virtual: Month of December
Shop local for the holidays – online! Uptown's Hop 'N Shop event will also have a virtual format this year, for the whole month of December. Click the button below to shop!
Need Some Holiday Shopping Inspiration?
Watch our video below to follow along on a tour with BIA Board Members to various Uptown businesses where you can shop for the holidays! 
Virtual Tree Lighting: December 4, 7:00 pm
Watch the Uptown Christmas tree lit up in the Waterloo Public Square online – with help from Santa! Visit our Facebook page to tune in live.
Letters to Santa
In lieu of physical visits with Santa this year, children can write their letters to him and drop them off at one of two Uptown businesses: Crumby Cookie Dough Co. (8 Regina St. N., Unit 5) or Just Love Pie (33 Erb St. W.) by Friday, December 11. Santa will collect all letters and record a video reading them, which will be posted on the Uptown social channels the following week. 
Holiday Window Walkers Art Walk
Take a self-guided tour throughout Uptown Waterloo to discover beautifully painted themed windows at various businesses! Visit our Window Walkers page for more details. 
Mistletoe Lane
Mistletoe Lane returns for the third year in a row! Bring your sweetheart to the decorated laneway between McCabe's Waterloo and the Uptown Parkade to take a kissing selfie to post on social media! Don't forget to tag #mistletoelane when you post!