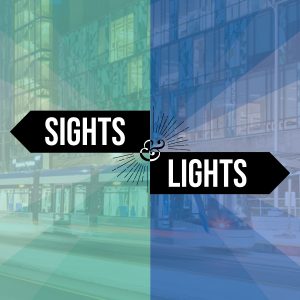 The launch of ION light rail on Friday, June 21st will provide a powerful, new artery into the urban landscape of Kitchener and Waterloo. To mark this momentous occasion, the UpTown Waterloo Business Improvement Area (BIA), Downtown Kitchener BIA, Keolis, Region of Waterloo and local merchants have combined their efforts to host "Sights & Lights," a social crawl between the hearts of Kitchener and Waterloo on Saturday, June 22nd from noon until 10:00 p.m.
This collaboration is the first of its kind for the two BIA's. "For years we have watched with anticipation as ION moved from planning to construction and now, reality," says Linda Jutzi, Executive Director of the Downtown Kitchener BIA. "This is a once-in-a-generation opportunity to bring new energy to our urban centres and we are encouraging residents to jump on board, visit, shop and celebrate with us."
Sights & Lights will feature:
Live music
Performers
Outdoor concerts
Free giveaways
Sidewalk sales
Vendor markets
Scavenger hunt with a draw to win $500 in Uptown and Downtown Dollars
Uptown and Downtown merchants are also getting involved by extending their hours and offering special promotions, discounts, menu specials, contests and workshops.
"ION will connect our communities like never before and provide an easy way to discover what makes Uptown and Downtown unique," adds Tracy Van Kalsbeek, Executive Director of the UpTown Waterloo BIA. "Our strategy for Sights & Lights is to create fun and lively streets where people can come together and experience the beating hearts of their cities – it's going to be a blast!"
The official opening of ION has been greatly anticipated by many in our community. "We are very pleased to partner with the BIA's in planning this exciting celebration," shares Tom Galloway, Regional Councillor. "Our two cores are vibrant community hubs with so much happening – this day will be no exception and we can't wait to host you!"
Residents Can Ride for Free
The launch of ION and 11 days of free service (June 21st – July 1st) on both buses and ION will offer additional opportunities for residents to experience key Uptown and Downtown celebrations, including, but not limited to:
The City of Waterloo's "Open Streets Festival" on Saturday, June 22nd from noon until 4:00 p.m. on Willis Way and at the Waterloo Public Square in Uptown;
Kitchener's Multicultural Festival on Saturday, June 22nd from 11:00 a.m. until 8:00 p.m. at Victoria Park; and
The Kitchener Market's launch of the new Market Walk mural embedded into Eby Street will occur on Wednesday, June 26th from 4:00 p.m. to 8:00 p.m.
"As a world leader for light rail operations, Keolis is incredibly proud to help implement ION and connect two fantastic cities," notes Ian Cushion, General Manager of Keolis Grand River. "This celebration is just the start of an amazing partnership between our organization and the two BIA's – stay tuned for an exciting opportunity to share your ION stories and win big prizes – more to come!"