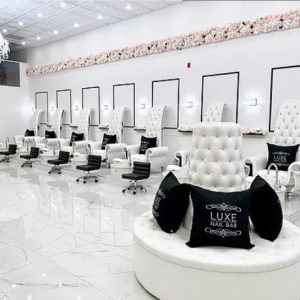 LUXE Nail Bar is opening its second location this weekend at 95 King Street South in Uptown Waterloo. The first LUXE, located at 125 Seabrook Drive in Kitchener, was established in February of 2018.
"We are super excited to join Uptown's business family," shares LUXE co-owner Andrew Armin. "As a full service beauty salon, LUXE is redefining the beauty enhancement experience for individuals who want a spa-like treatment at an affordable price point."
As the first salon in the tri-cities to provide bath bombs with their pedicure services, LUXE Nail Bar has made a name for itself in Kitchener-Waterloo with their use of environmentally conscious, cruelty-free, vegan-friendly products and state-of-the-art equipment and sanitation practices. 
The two salon owners come from a medical studies background and cleanliness is of the utmost importance for them. So is providing the highest quality of customer experience. "We aim to be more than just a nail salon – we are an urban, social space," adds co-owner Kyle Varga. "We are big believers of family and supporting our community and make both a focus in our salon space."
LUXE's new space in Uptown has a Beverly Hills inspired design featuring an Instragram-worthy rose wall, pedicure thrones, marble flooring, chandeliers and 15-foot ceilings for a spacious, luxurious feel. Both salon locations are designed to host any special day including birthday parties, bachelorette parties, ladies night out and other important occasions.
Future plans for LUXE include a full liquor license at both locations, adding medical aesthetics and starting a training academy to foster future generations of aestheticians to mirror LUXE's high standards for excellence, attention to detail, cleanliness and customer service.
Grand Opening
The community is invited to LUXE's "cotton candy themed" grand opening party this Sunday, August 25th from 2:00 pm until 7:00 pm at 95 King Street South, Waterloo. For the event LUXE has teamed up with the fitness gurus at Uptown's Hustl & Flow, Canadian aromatherapy company Saje Natural Wellness and upcoming powerhouse Four All Ice Cream to give guests an exclusive first glance of their new digs while enjoying a glass of champagne, indulging in some free cotton candy, ice cream and prizes including a free mani-pedi! In addition, LUXE Nail Bar is raising awareness for Women's Crisis Services of Waterloo Region with a raffle to which all proceeds will go towards helping women and children move beyond violence.