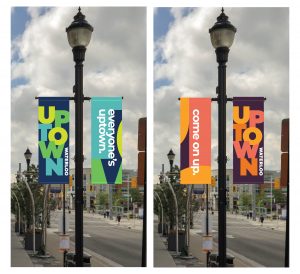 Earlier this year the Uptown Waterloo Business Improvement Area (BIA) embarked on a quest to update its 47-year-old brand.
The BIA's choice to rebrand coincided with decisions reached after an in-depth, strategic planning refresh last fall. "Under our new strategic plan we are working to build a bolder brand that is distinct, demonstrates our leadership and innovation and clearly tells people who we are, what we value and why we are unique," shares Executive Director, Tracy Van Kalsbeek. "Uptown Waterloo has also experienced tremendous growth and change in the last ten years and we are looking to tell our story in a new and exciting way."
Working alongside advertising firm STC, professed "storytellers" who have worked with other cities, BIA's and a few Waterloo Region entities including Wilfrid Laurier University, the comprehensive process included one-on-one interviews with BIA Board and staff members, discussion and feedback from the BIA's diverse Marketing committee, roundtable stakeholder sessions and membership surveys.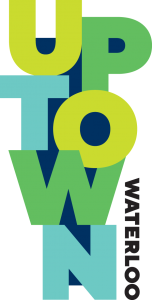 The new branding includes horizontal and vertical logos in two different colour palettes and letterhead, newsletter, business card, advertising, website, social media and brochure templates. The new tagline "come on up" creates a simple, yet strong call to action as well. Adds Van Kalsbeek, "the end result is an updated identity for the BIA that embodies the current essence of Uptown – the heart of our city that is welcoming, safe, vibrant and evolving."
Mayor Dave Jaworsky is pleased with Uptown's new look. "The BIA's new branding is bright and engaging and will help us tell the story of opportunity and change in our growing community. Kudos to the BIA for undertaking this important initiative and I encourage everyone to "come on up" to work, live and spend more time in Uptown Waterloo."
The BIA will be adding the new branding's look and feel to their communications, advertising and storytelling over the coming months with a hard launch at their Annual General Meeting in the new year.