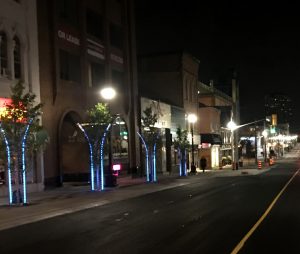 As part of the new Uptown Waterloo streetscape and to assist with the costly upkeep and maintenance of old, seasonal lights, LED lighting structures have been erected around trees along King Street. At present they run North from Waterloo Public Square to Bridgeport Rd. Final construction will see them run up to Central Street.
Made right here in Waterloo Region by LEDgendary Lighting and Weber Fabricating Ltd., a total of 57 stainless steel lighting structures will illuminate Waterloo's uptown. Each structure has 108 LED programmable lighting nodes – with a total of 6,156 individual bulbs. The project is managed by Jakub Cyperling at the City of Waterloo. Over the summer, a mock-up of the lighting was installed in the City Hall courtyard and the public was engaged to help further refine the idea. Funding for the lights – being dubbed 'Waterluminate' – came from the City of Waterloo, the UpTown Waterloo Business Improvement Area (BIA) and a Provincial Main Street Revitalization grant.
Currently the structures are running on a pre-programmed light show – to help showcase the 16.7 million colours and interesting activation capabilities. Starting in the next week, the lights will begin a new daily show featuring classy and elegant lighting applications – adding to the unique and sophisticated vibe of Uptown. Hourly and midnight shows will feature one minute, special lighting segments. The lighting system, which only costs a few dollars a day to run, illuminates Uptown Waterloo from sunset until 1:30 am and is turned back on again in the mornings at 5:30 am until sunrise.
"Functionally, these structures are incredibly strong and will aid in protecting the trees as they grow," notes Adam Holland from IBI Group, the designer behind the project. "We put a lot of thought into the design – the structures are modular, meaning that each piece is identical so it is easy to change out a damaged section, if needed. And, they are also adaptable to include SMART technology for future applications such as tree health, environmental conditions, traffic, number of pedestrians, cyclists etc."
Helping to create a distinct and creative identity for Uptown Waterloo, the new LED lighting system will also assist in attracting new businesses into Uptown and increasing tourism through place and destination-making.
With the programmability of the structures, comes the ability for light shows to observe holidays and special dates throughout the year. "Much like the CN Tower or Niagara Falls, our lights can be lit up in support of important causes, as well," adds Tracy Van Kalsbeek, Executive Director of the UpTown Waterloo BIA. "Local organizations can put in requests to 'light up' Uptown in a special hue and help bring awareness to their initiative. How cool is that?" Groups interested in making lighting requests will be required to complete documentation and pay a nominal fee, with each request being looked at on a case-by-case basis.
"These new lights are designed to illuminate and celebrate the new Uptown streetscape," says Mayor Dave Jaworsky, City of Waterloo. "They were inspired by the Champs Élysées and, much like in Paris, 'place-making' was the main premise behind the planning and design of this innovative and unique lighting system. Uptown is a premier destination in our city and these lights add to its appeal."
For the WATERLUMINATE policy and information on how to make lighting requests visit our WATERLUMINATE page.