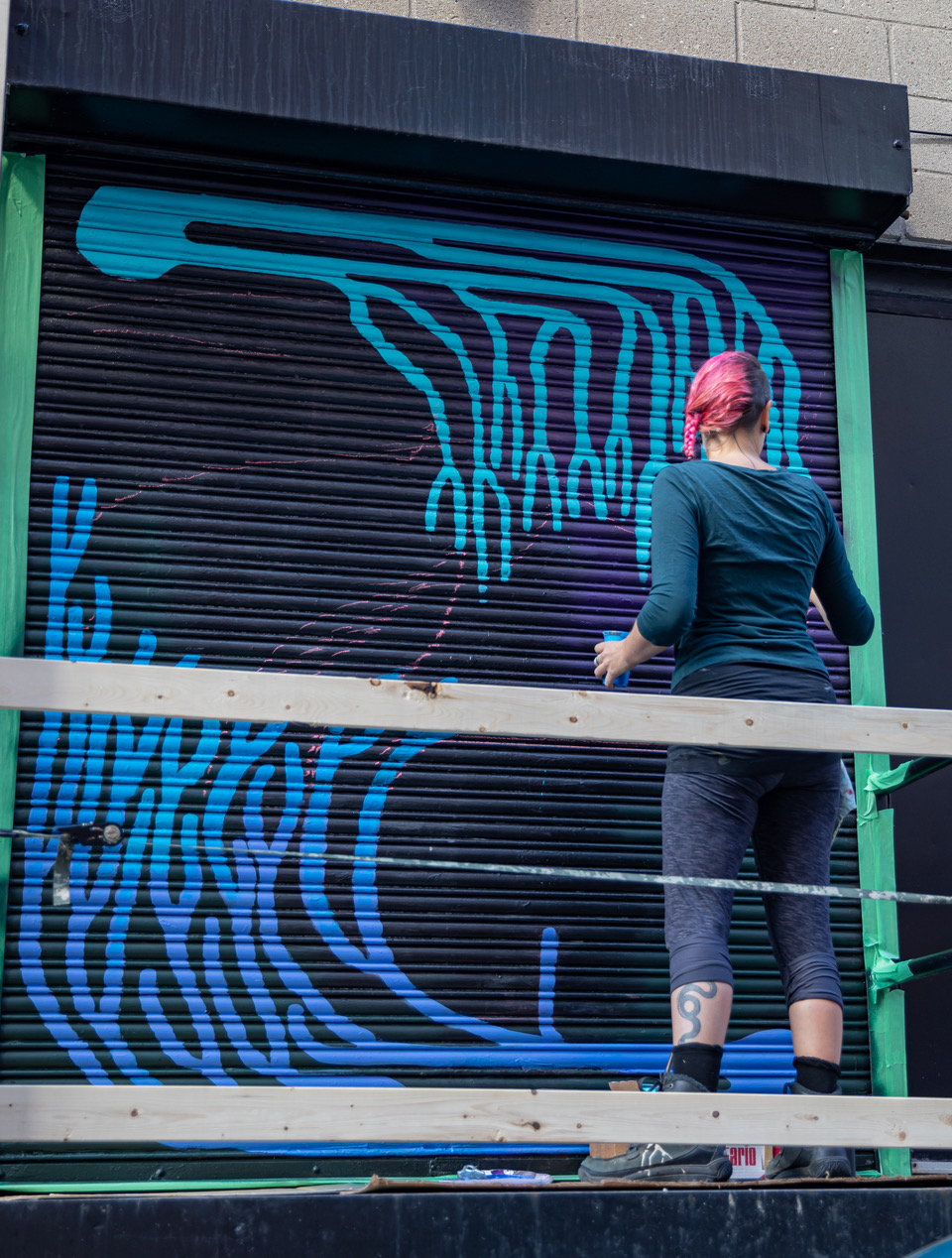 A new partnership between the Uptown Waterloo Business Improvement Area (BIA), City of Waterloo, local businesses and artists is adding colour and culture to an Uptown laneway.
The Hughes Lane Art Walk is similar to Vancouver's 'Canvas Corridor' where the back doors of businesses within the alleyway are being transformed with murals. "We are so excited to see this initiative begin to take shape," shares Tracy Van Kalsbeek, Executive Director of the Uptown Waterloo BIA. "The Hughes Lane Art Walk builds upon Waterloo's existing mural project located on the side of the Uptown Waterloo Parkade and, once completed, will provide a safe and inclusive space for visitors to access public art."
Last week the doors were prepped with a special undercoat, courtesy of Goodbye Graffiti, and this week the artists are creating the murals. Another special graffiti coating will go on after the works of art are completed. An official unveiling for the Hughes Lane Art Walk is being planned for early September.
Hughes Lane runs parallel to King St. South in Uptown between William Street and Willis Way and picks up again on the other side of the Uptown Parkade and runs to Erb Street. Participating Uptown businesses include: Marbles (door artist Lucy Bilson), Hustl+Flow (door artist Jackie Levitt), Zero Waste Bulk (door artist Nikolina Kupcevic), 21 Fir (door artist Luke Swinson), McCabes (door artist Kat Hernden), King Street Trio (door artist Andi), Bud & Sally Cannabis Co. (door artist Tara Cooper) and Patent Social (door artist Jason Panda).
The Hughes Lane Art Walk supports the goals of the Uptown Public Realm Strategy as well as the City of Waterloo Culture Plan. Artists submitted their proposals through an open call competition run by the City of Waterloo. The submissions were juried based on the quality, aesthetic appeal and connection to participating businesses. The initiative is funded, in part, by Regional Tourism Organization RT04 through their Shareable Moment Challenge grant program.
Historical Note: Hughes Lane was named after the City of Waterloo's first ever woman councillor. Anna Hughes served as one of eight Waterloo council members from 1951 until she retired in 1963. Learn more at the Waterloo Public Library here..