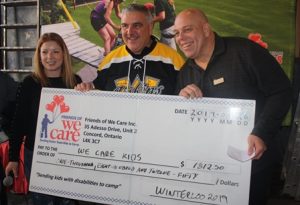 The results are in and the winners announced! Close to 500 people braved the cold this past Saturday for the UpTown Waterloo Business Improvement Area's (BIA) 8th annual Chili Cook-off and inaugural Mac 'N' Cheese Challenge.
The "comfort food crawl" was held at two Uptown Waterloo restaurants with the Chili Cook-Off at Abe Erb Brewing Company and the Mac 'N' Cheese Challenge at Stark & Perri. 
Participating competitors were: Copper Branch, Beertown Public House Waterloo, Stark & Perri, Little Mushroom Catering, Harmony Lunch, Abe Erb Brewing Company, Lou Dawg's Waterloo, Pure Juice Bar & Kitchen and Nudl Artisan Pasta.
"We were blown away by the number of people who attended this year – we completely sold out of tickets," shares Tracy Van Kalsbeek, Executive Director of the UpTown Waterloo BIA. "And, because of everyone's generosity, we raised $1,802.50 for our charity partner Friends of We Care – just amazing!"
Celebrity judges Carlos Benevides from 91.5 The Beat, Andrew Coppolino CBC Food Columnist, Angie Hill from 99.5 K-Fun, Dana Shortt from Dana Shortt Gourmet and City of Waterloo Mayor Dave Jaworsky presented Judge's Choice awards to Abe Erb for their innovative chili in an edible bowl and Nudl Artisan Pasta for their delicious macaroni and cheese.
People's Choice awards went to Beertown for their mouth-watering chili and to Harmony Lunch for their yummy mac & cheese.
The events were part of Waterloo's annual Winterloo Festival.