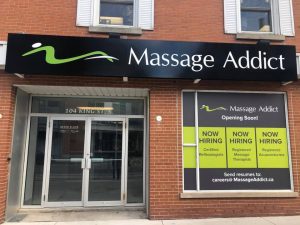 If you're ready to take your personal wellness to the next level and make therapeutic massage, acupuncture and reflexology a part of your routine, look no further. Massage Addict is the newest wellness clinic to move to Uptown Waterloo.
Opening at 9:00 am on Wednesday, October 30th at 104 King Street South, Uptown's Massage Addict is part of the fastest growing therapeutic clinic chain in Canada.
Treatments help clients with stress, pain and overall muscle and joint tension. "We are so excited to be in Uptown Waterloo – it's our city, our home," share owners Samantha and James Jordan. "We love the feeling of excitement we get every time we are in Uptown with the variety of special events and great places to shop, eat and visit!"
To provide the very best treatments for their clients, Massage Addict recruits the highest calibre of Registered Massage Therapists, Registered Acupuncturists and Certified Reflexologists. Uptown's Massage Addict is modern and clean – designed for optimal comfort and relaxation – at a price all can afford.
"Our model welcomes non-members to book treatments, while Massage Addict members enjoy preferred prices every time they book," add the Jordans. "It's like a passport to better health and wellness." Direct billing to most insurance companies and extended clinic hours provide a significant level of convenience to clients as well.
Pre-booking at massageaddict.ca/waterloouptown is now available.