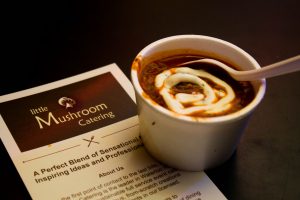 Nothing helps to beat those winter blues like comfort food! The public is invited to attend the UpTown Waterloo Business Improvement Area's (BIA) 8th annual Chili Cook-off and, new this year, inaugural Mac 'N' Cheese Challenge on Saturday, January 26th.
The events run from noon until 3:00 pm and are part of Waterloo's annual Winterloo Festival.
"It's a fun afternoon where Uptown Waterloo restaurants and vendors compete for the coveted People's Choice and Judges' Choice awards," shares Tracy Van Kalsbeek, Executive Director of the BIA. "Everyone and anyone is invited to attend – the tickets are only $5 and you will get to sample the options for both competitions."
This "comfort food crawl" will be held at two Uptown Waterloo restaurants with the Chili Cook-Off at Abe Erb Brewing Company and the Mac 'N' Cheese Challenge at Stark & Perri. 
Participating competitors are: Copper Branch, Beertown Public House Waterloo (2018 Judges' Choice Winner – Chili), Stark & Perri, Little Mushroom Catering (2018 People's Choice Winner – Chili), Harmony Lunch, Abe Erb Brewing Company, Lou Dawg's Waterloo, Pure Juice Bar & Kitchen, Nudl Artisan Pasta and Swine and Vine. There are six competitors in each category – check out the complete lists HERE.
Joining the BIA as celebrity judges this year are: Carlos Benevides from 91.5 The Beat, Andrew Coppolino from Waterloo Region Eats, Angie Hill from 99.5 K-Fun, Dana Shortt from Dana Shortt Gourmet and City of Waterloo Mayor Dave Jaworsky.
"As far as I'm concerned, it's only the best of both comfort-food worlds with chili at one end of Uptown Waterloo and mac 'n' cheese a few blocks away," adds judge Andrew Coppolino. "They're two of my favourites and I'm glad to have the opportunity to sample all of them. Then again, it makes selecting a winner twice as difficult!"
Awards will be announced around 2:30 pm at Abe Erb and will be streamed live on the BIA's Facebook page.
Proceeds from this event will support charitable partner Friends of We Care – a network of 84 member sponsor organizations from the Foodservice and Hospitality Industry united by a common goal of bringing joy to kids with disabilities.
Tickets are available online via the UpTown Waterloo BIA website and at the doors of both event venues.